The Islamic State of Iraq and Syria (ISIS) has made a mockery of the U.S. first lady Michelle Obama through series of tweets accompanied by the hashtag: #bringbackourhumvee.
The militant group photo-shopped a popular image of Michelle carrying a sign that reads #bringbackourgirls, part of a global campaign to rescue 276 Nigerian school girls who were kidnapped by Boko Haram last month.
The #bringbackourhumvee tweets being shared by ISIS members and their supports on Twitter refer to American-made Humvees confiscated by the extremist militants in Iraq last week, the UK-based Daily Mail said.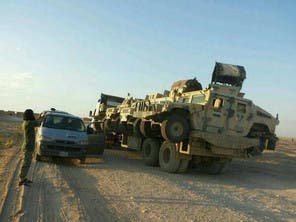 The image posted on Twitter by a self-proclaimed Oxford student shows the alleged Humvee transported from Iraq to Syria. (Photo courtesy: Twitter)
The group which had been fighting in Syria's civil war gained control of many swathes of Iraqi territories since last week, including Mosul, the country's second largest city.
The U.S.-made military hardware seized by ISIS in Iraq could be used for in battles against the forces of Iraqi Prime Minister Nuri al-Maliki.
A senior official from the opposition Free Syria Army said ISIS moved Humvees and helicopters among smaller weaponry, like Kalashnikovs, across the border from Iraq to Syria, the International Business Times reported last Thursday… see more