The de facto authorities in Crimea have announced that they consider the territory to be part of Russia after a swift vote in the local parliament.
The MPs said on Thursday morning that a referendum planned for 30 March – which was due to ask voters if they wanted more autonomy from Kiev – would now take place on 16 March, ask whether they wanted to join Russia, and only be a ratification of a decision that had already been taken.
The parliament also appealed to Moscow to assist its decision to seek union with Russia.
The bombshell announcement coincided with an emergency EU summit in Brussels devoted to Ukraine. Senior EU officials denounced the idea as "completely illegal" while British officials said they would take their cue from the interim Ukrainian government, which deems the referendum anti-constitutional.
The acting Ukrainian prime minister, Arseniy Yatseniuk, roundly dismissed the referendum idea.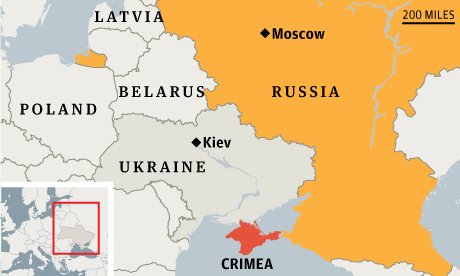 "This is an illegitimate decision. This so-called referendum has no legal grounds at all. Crimea was, is and will be an integral part of Ukraine.
"In case of further escalation and military intervention into Ukraininan territory by foreign forces, the Ukrainian government and military will act in accordance with the constitution and laws.".. see more
source: Guardian UK