Talent will out, as Charlie, the "corpsing" blue-and-gold macaw who plays dead, demonstrated at keenly contested auditions for the prestigious psittacidae position of "parrot-in-residence" at a publicity-savvy family attraction. Charlie, 32, caught judges' eyes to win a perch at the Legoland Windsor Resort hotel this Easter after the call went out to parrot owners the length and breadth of the land.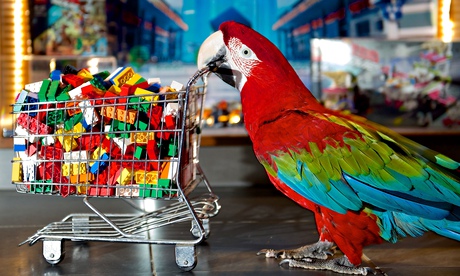 Zico, one of the defeated parrots, pushes a trolley. Photograph: Mikael Buck/Rex
A final four competed for the honour. But Tracey, a scarlet macaw with enviable scootering skills, Zico, a green-winged who can push a tiny trolley, and Jethro, a hybrid who can deftly place gold coins in his own treasure chest, were all outshone by Charlie.
Not that Charlie just falls off her perch. Rather, she rolls over and plays dead, leading judges to describe her as "a born buccaneering double-bluffer" and perfect pirate's first mate.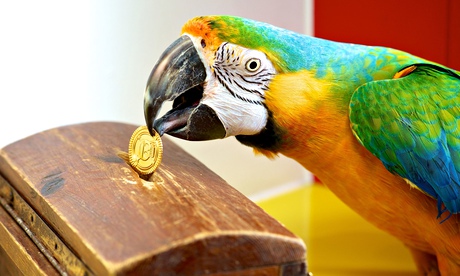 Jethro at the auditions. Photograph: Mikael Buck/Rex
She will star in the Castaway Camp, a new pirate adventure play area. Her owner, Peter Bloom, 55, from Pickering, north Yorkshire, has had Charlie for 30 years since he bought her in Scotland where she was hatched.
"We were very impressed by all our candidates. In fact they were all so gifted picking the perfect parrot for the post was incredibly tough," said a Legoland spokeswoman.
"But Charlie just had that extra touch of piratey mischief and we think she will fit right in when she takes up her special Lego parrot perch next month. She will meet and greet guests here in our reception area and we know they will love her."
One note of caution. As a blue-and-gold macaw, Charlie's other talents are likely to include loud vocalisations and destructive chewing.
source: Guardian UK